Baby bibs are essential, and they are available in different colors, being budget-friendly, convenient, and innovative. As we know how messy babies can get while eating, bibs are very useful and helpful, as you don't have to keep washing clothes all the time. Such bibs are a good investment in away. Below is the list of top 10 bibs for baby which are very convenient and adorable.
10. Baby Bjorn Soft Bib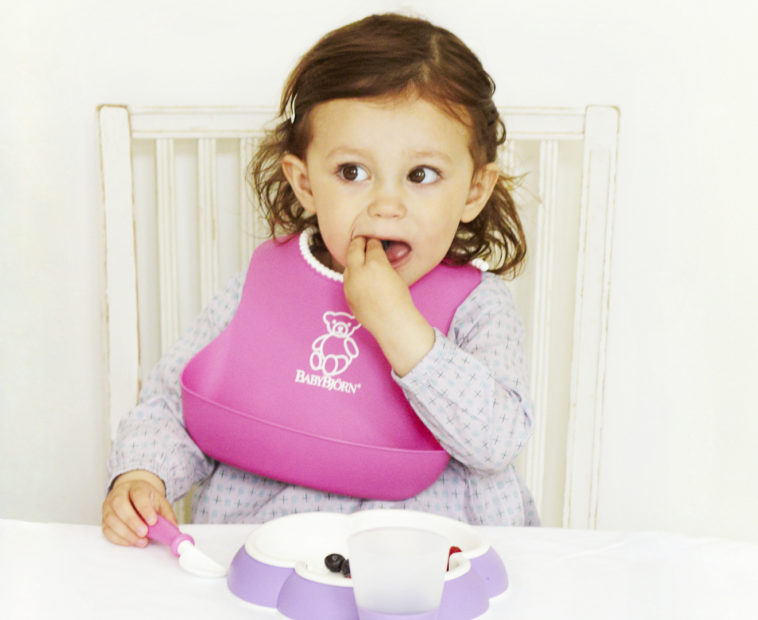 This is one of the best options for your baby, as this fabulous product comes along with spill pocket, and it is easily available on amazon's online website. Having a spill pocket is helpful for the kid to not spill any food on the carpet and on clothes. It is the perfect option for the baby, as this bib is easy to clean, all you have to do is hold the bib that is dirty underwater, and wash it off, and also you can also have it clean in the dishwasher.
This bib is by Baby Bjorn company, which comes in several colors, and has a beaded neckline. The material is plastic that is BPA free and soft as well, so it doesn't get as dirty as a cloth-based bib.
9. Niteo Baby Bibs in Organic Cotton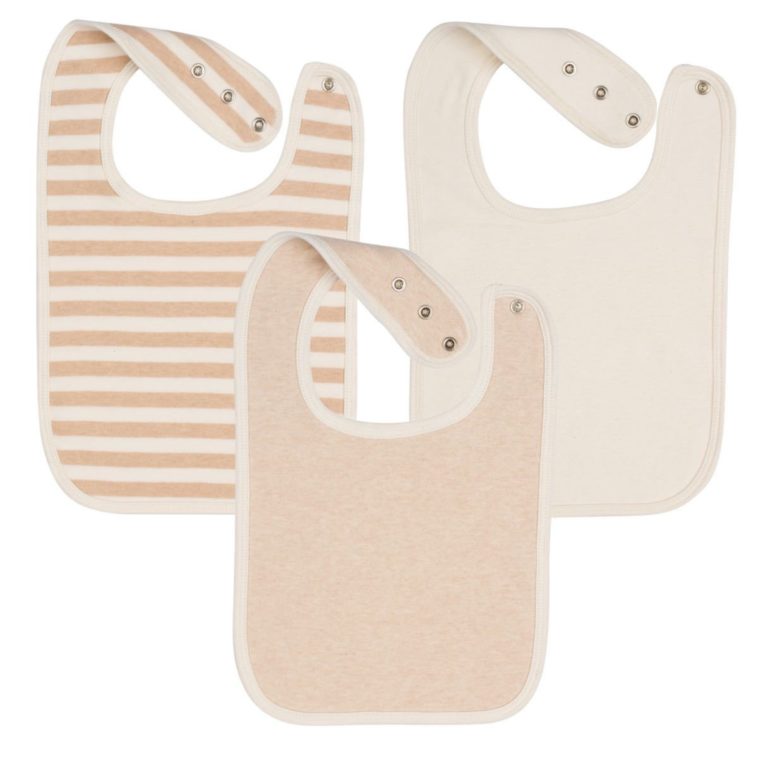 Having organic-based material for your kid is very necessary. Such bibs are helpful, as your baby's clothes won't get dirty while wearing this, even while playing around the grass. Such organic bibs are subtle with the design as well as the material is thick, so the thickness absorbs the dirt well and is also easy in cleaning. This is available in various colors, so you can pick out several of them.
8. Mori Milk Bib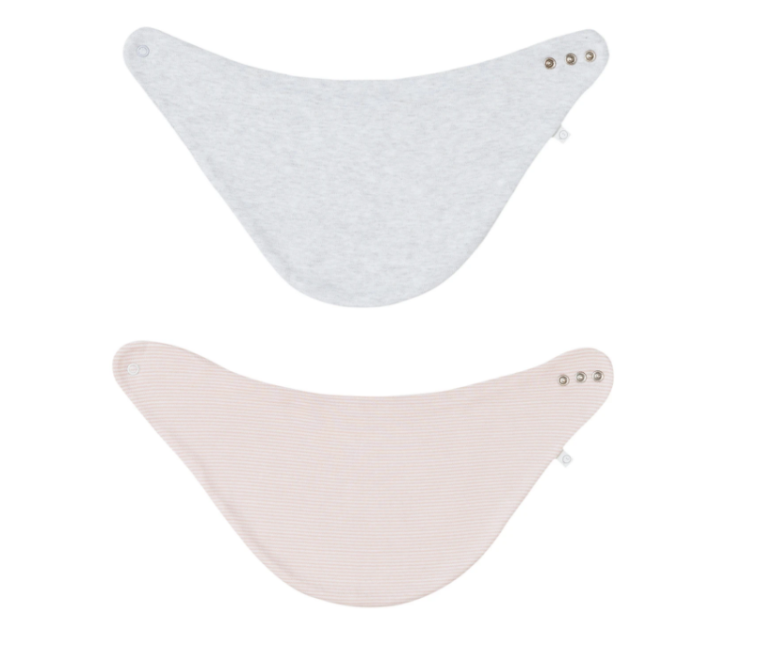 This bib is particularly for milk dribbles, as the name implies, and its design is very stylish and sleek which comes in organic bamboo and cotton material. It comes in a pack of two, which aren't the cheapest ones, but if you are looking for stylish bibs for your baby, then this is the best option to go for. The material is quite thick with a layer being three-pry that provides extra absorbency, so you can leave it upon your baby, as it will soak up the milk dribbles and spills.
7. Lassig Long Sleeve Bib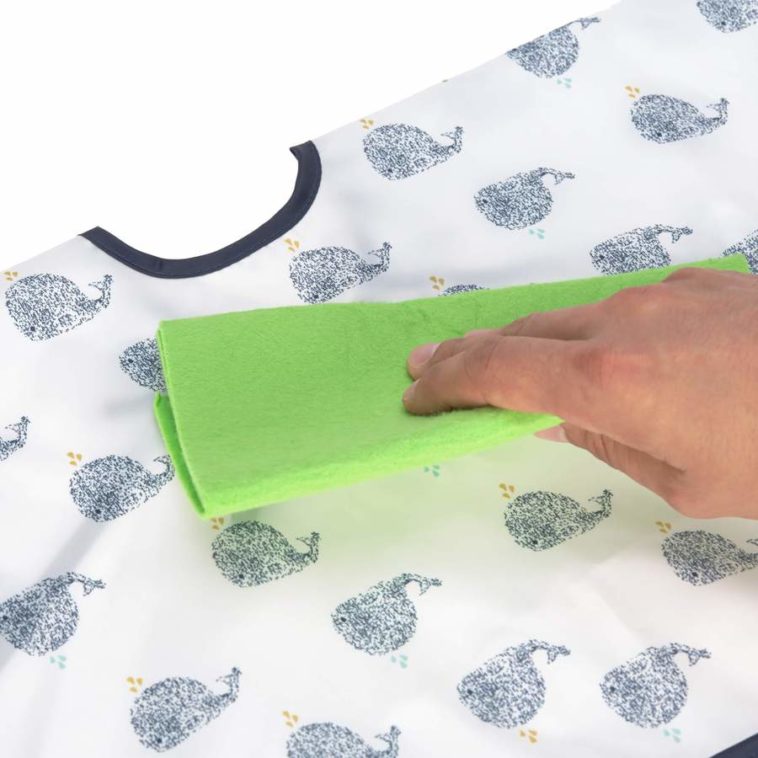 This comes in the small tree fox pattern, with several colors, and also has a spill pocket. This bib is designed specifically for those parents whose kids get messy more during mealtimes. Especially with puree feeding, as there isn't any limit as to how much puree smothering can happen. So reduce the messiness, by getting this long sleeve bib, which is made with coated polyester, which makes the cleaning very easy, where you can just wipe the dirt off. This can also be used for the explorative and crafty playtime.
6. Bumkins Disney Sleeved Bib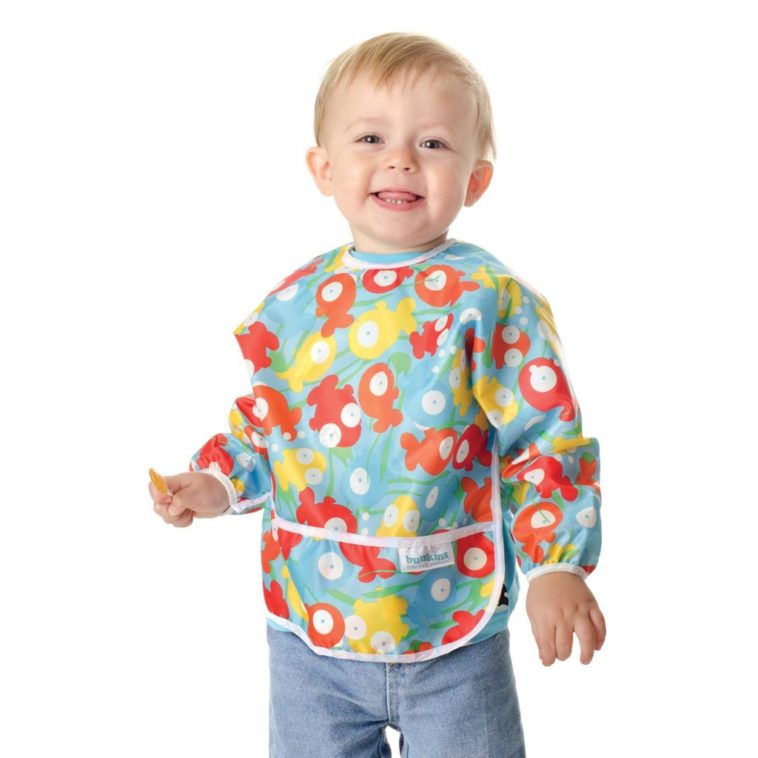 Bumkins bib is also made with polyester that is 100 percent, which is waterproof, odor-resistant, and stain-proof, so you don't have to particularly wash it, and just wipe off the stains and you are good. Sleeves and spill pockets are also there which offers better protection. So the kid can happily play around and be messy, as the mothers don't have to worry about cleaning it much. It comes in several Disney prints, with various colors, from which you can select from.
5. Tommee Tippee Explora Easy Roll Bib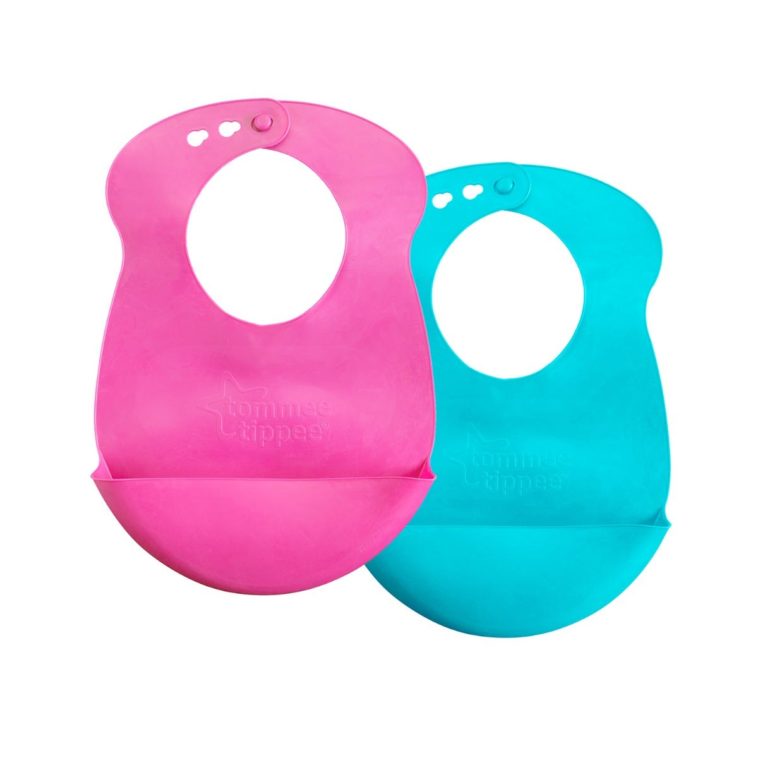 Easy Roll Bib, works best for travel use and is designed for easier feeding. It is a bit expensive, but worth every bit. The best part about this bib is the cleaning part, where you just have to wipe the dirt off, and not spend much time in the cleaning process. It comes with a spill pocket as well and looks very classy and cute as per the design. Also, you will not be required to buy dozens of bibs, as one or two of this is more than enough.
4. Mati Baby Bandana Bibs with Snaps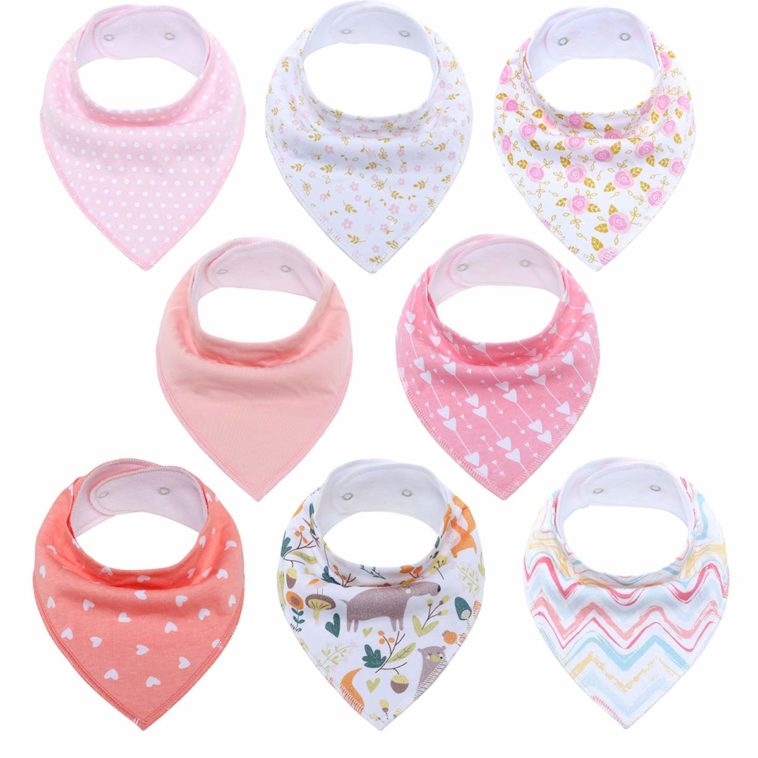 These are the cutest looking bibs, available in different colors and patterns, and you can actually get a pack of 8. They are super absorbent, chic, organic, and soft, where the front of it is soft cotton and back of it is polyester fleece. Also, this brand has teamed up along with Chain Reaction, which helps with putting up a fight against human trafficking. The patterns and colors are neutral, so work for both girls and boys. It is recommended for 3 to 24 months.
3. BabyPrem Twin Bib Set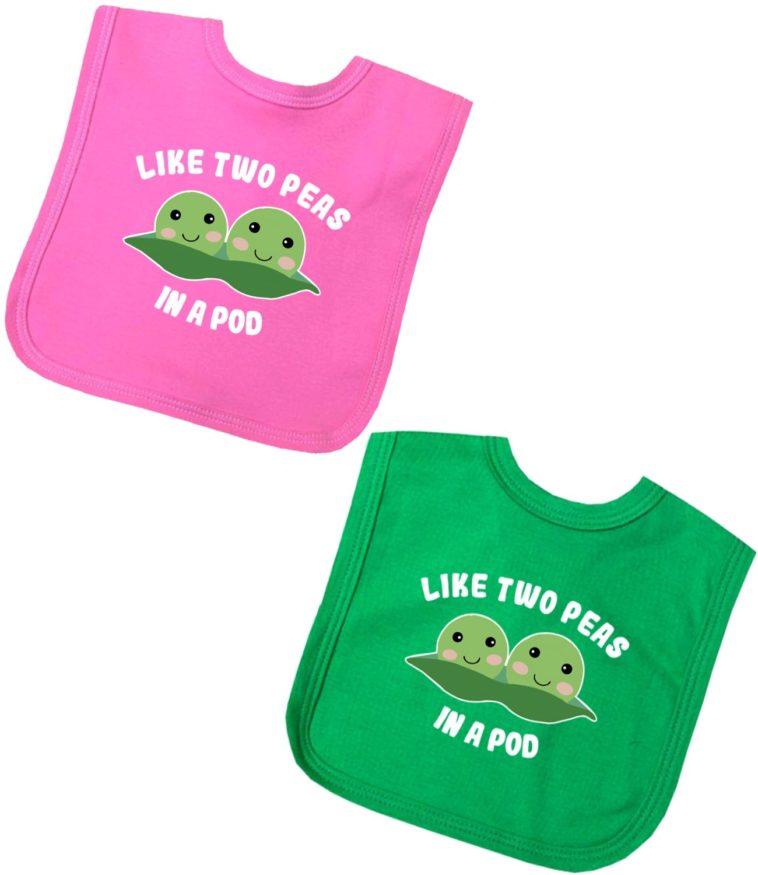 This comes in a pack of two, specifically made for twins, with the slogan saying 'I Love My Twin, But Feed Me First'. The material of it comes with double thickness and 100 percent cotton and is available in three options which are two royal blue sets, two candy pink set, and one royal blue with one candy pink set. So if you have twins, opt for this cute and adorable bibs.
2. Silicone Baby Bow Tie Bib with Pocket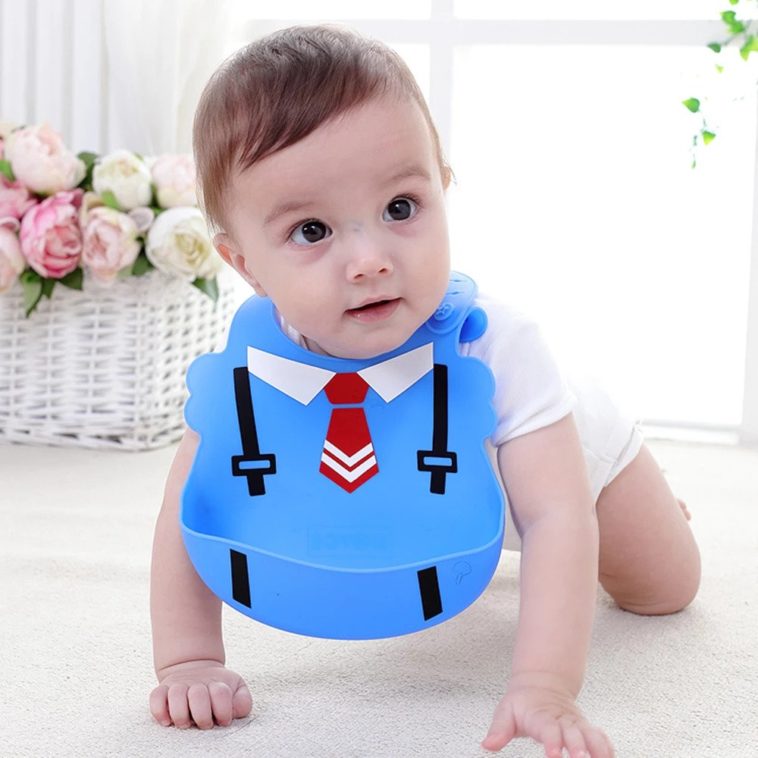 This wonderfully soft bib for baby is usable again and again, and even after several usages look great. It is made up of silicone, which is BPA free food grade, and at the same time stylish and extremely functional. All the styles available are easy to wash, dishwasher safe, and stain-resistant. It comes with an adjustable strap that fits the baby of 6 months to up to 3 years. Along with being BPA free, it is also Lead-free, Latex-free, and Phthalate free. So when you have a family gathering or fancy dinner, then take out this bow tie bib and your little one would look like a gentleman and be a charmer.
1. Ulubulu Silicone Baby Bib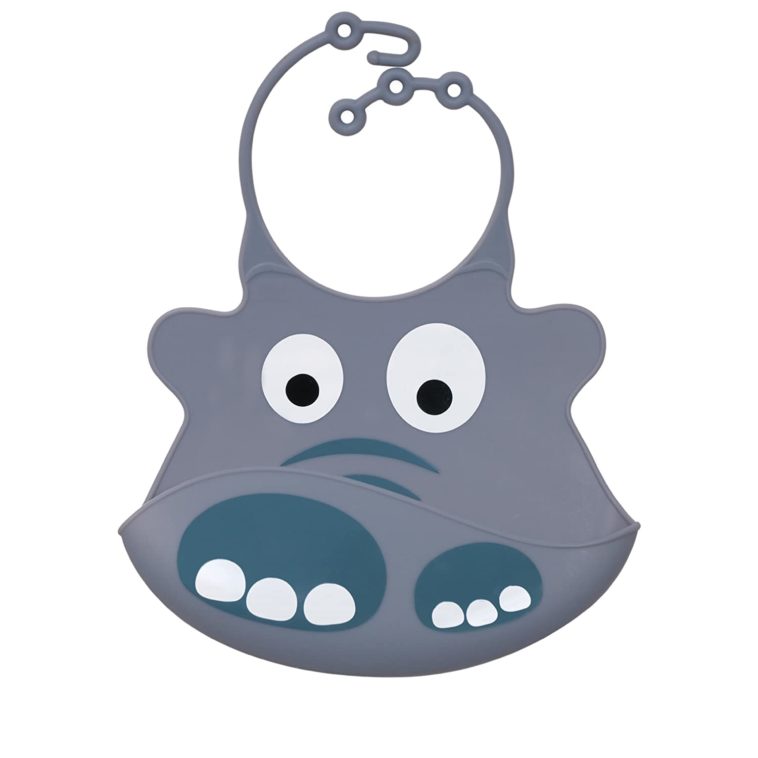 This is the most stylish and cutest design for baby bibs. It does not contain PVC, Latex, Phthalates, BPA, or Lead. The neck of it is adjustable which can be used from six months' babies to toddlers. It comes in various designs such as tiger, elephant, teddy bear, etc. being very appealing.
Products for babies are absolute necessities such as baby bibs, so invest in the best one. Here is the list of top 10 bibs for baby.
Top 10 Bibs for Baby
Baby Bjorn Soft Bib
Niteo Baby Bibs in Organic Cotton
Mori Milk Bib
Lassig Long Sleeve Bib
Bumkins Disney Sleeved Bib
Tommee Tippee Explora Easy Roll Bib
Mati Baby Bandana Bibs with Snaps
BabyPrem Twin Bib Set
Silicone Baby Bow Tie Bib with Pocket
Ulubulu Silicone Baby Bib