Guns, when hearing this word you feel nothing dangerous than good at killing. This is what where science and technology came up with a modern and efficient way of different sizes and shapes according to convenience. Especially weapons are made for defense and security purposes. It makes people dangerous and powerful irrespective of race or religion. So today we will have a look at the Top 10 Most Powerful Guns in the World:
10. Kalashnikov AK-47 Assault Rifle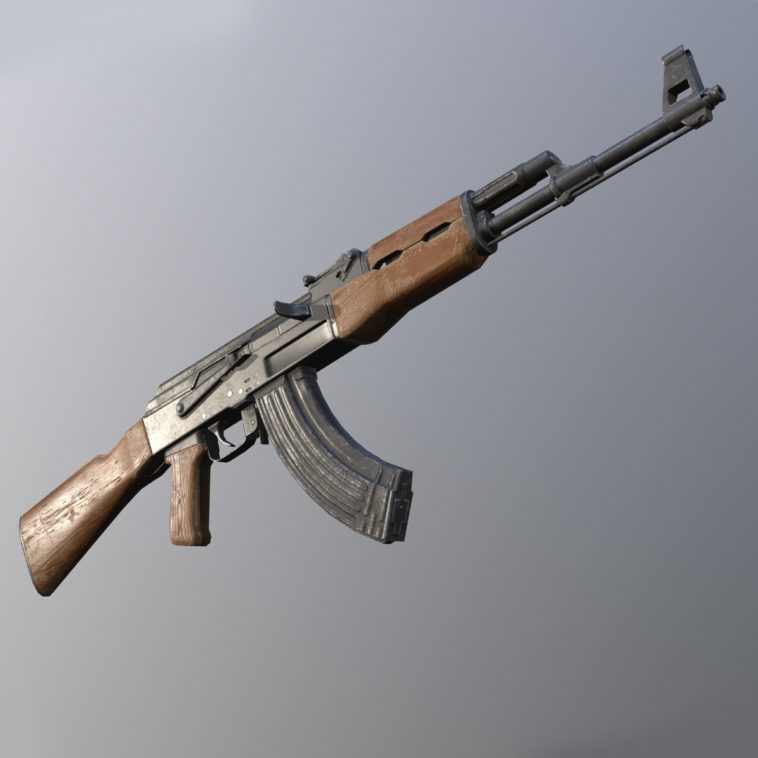 The Russian originated Kalashnikov AK-47 Assault Rifle is one of the most powerful guns in the world. The most used weapon in the world Kalashnikov Ak-47 Assault Rifle is known for its fixture, durability, easy to use and of course for its low price. These guns need no special skill to use as it is easy to use and it has more than 100 million users across the world.
9. Machine Gun – Koch and Heckler HK MG4 MG 43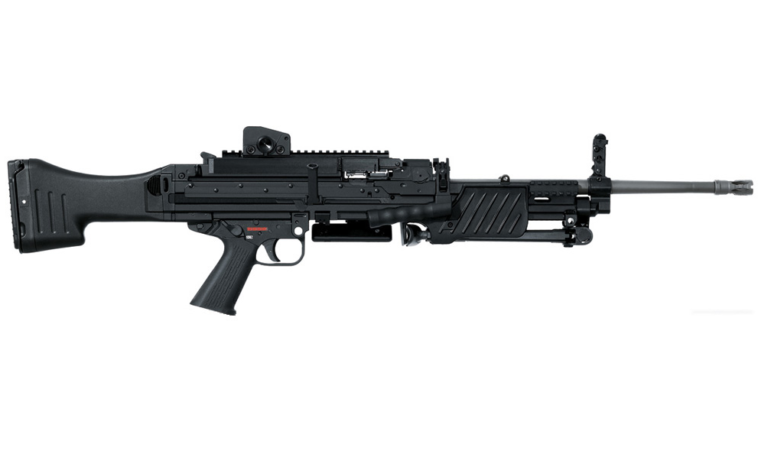 A German company Heckler and Koch came up with the 5.56mm caliber gun in the early 2000s. However, it was designed in the '90s but was failed to hit the market because of some issues. This Machine Gun HK MG4 MG 43 aka the "perfect killer" has an effective range of 1000m. It is very safe to use, reliable and has lightweight which make this weapon popularity throughout the world.
8. Thompson M1921 Submachine Gun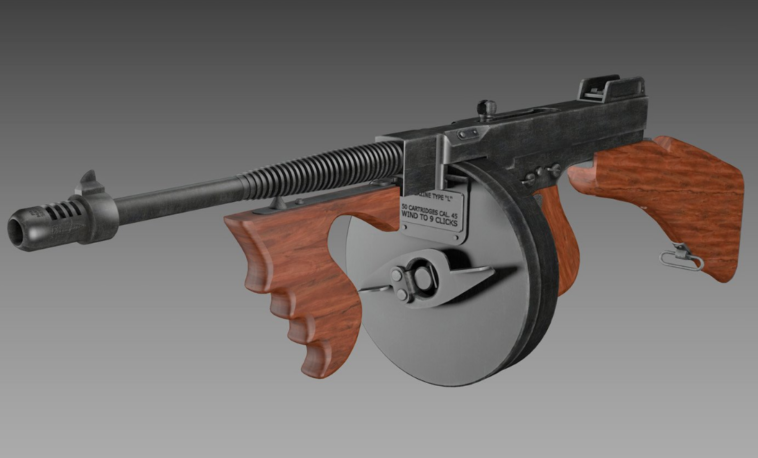 One of the deadliest guns of the 20th century is an adorable weapon for the user since the beginning of world war II and has its popularity even today. An American originated Thompson M1921 Submachine Gun can fire 45 ACP round at 1500 rounds per minute. It is quite difficult to control this weapon even though it is one of the most extensively used submachine guns in the world. The old model is replaced by the new one while both are still in use. The rapidly firing skill has tilted it as " The Chicago Typewriter".
7. AS50 Sniper Rifle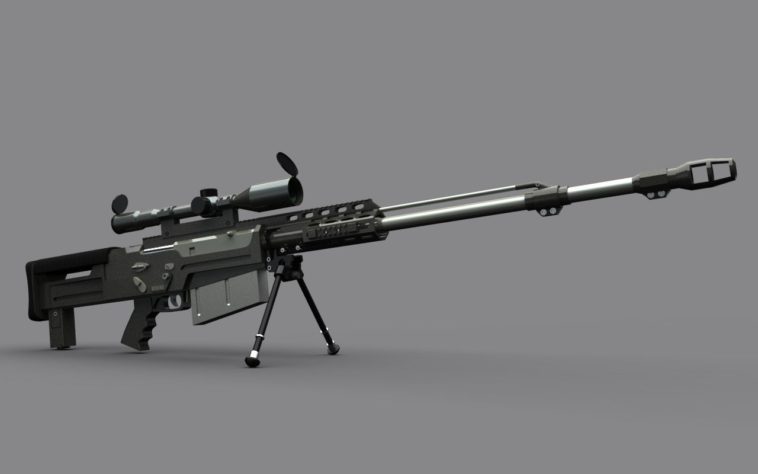 Sniper also is known as anti-material rifle is British originated is good at its accuracy and hits the target at a long-range with 1800m. This 12.7mm caliber gun weights 12.3kg and can hold 0.50 BMG in its one stack. It is one of the deadliest weapons in the world. Without servicing tools, it can be disassembled in no less than two minutes.
6. F2000 Assault Rifle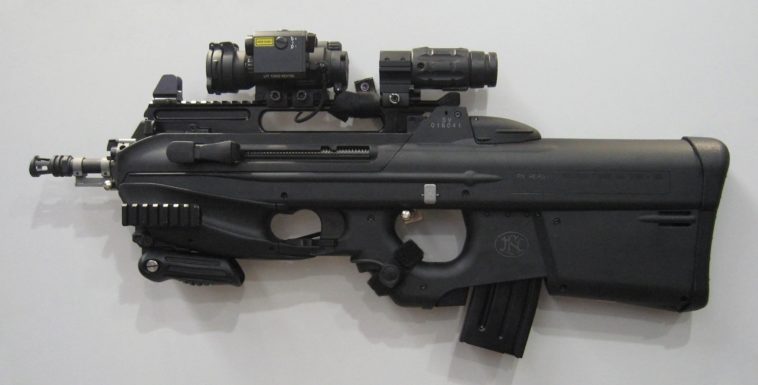 The modular assault rifle is Belgium originated gun which was developed in 90's and introduced publicly in 2001. With bullpup design, it is gas-operated and has smooth outlines. The 5.56mm caliber assault rifle has the sighting range of 400m can be used with both hands. The magazine's capacity for this rifle is 30 rounds. This lethal weapon is used in most parts of the world.
5. XM307 ACSW Advanced Machine Gun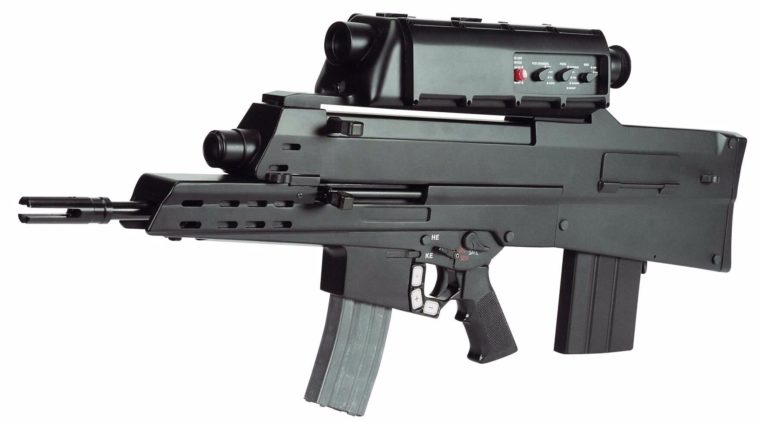 The vehicle mountable XM307 ACSW is an American originated automatic machine gun with a capacity of 250 rounds per minute. This gun uses explosive and training ammunition. It weighs 22.5kg with an effective firing range of 2000m. It can easily destroy the armed vehicles, aircraft watercraft within the range of 1000m and can be operated by two people.
4. HK416 Assault Rifle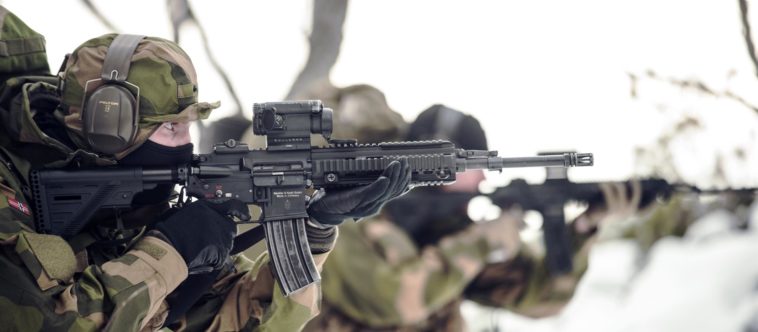 HK416 Assault rifle is one of the expensive guns in the world. The German originated assault rifle is reliable and accurate. It was developed by Heckler and Koch in the early '90s. The HK416 Assault Rifle has a life span of 20,000 rounds. It has an including 40mm under-barrel grenade launcher. However, it is not as widely available as its counterparts.
3. Stoner AR-15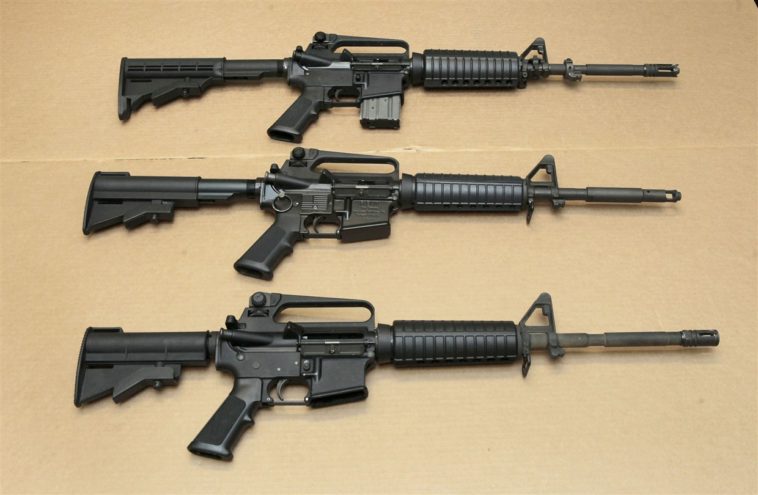 The commonly used weapon in the world is Stoner AR-15. It is an automatic machine gun for military purposes. The American originated stoner comes up with different designs almost with that same accessory that is being used in different parts of the world. The AR-3, AR-7, AR-11 are the series of Stoner  Automatic Rifle.
2. M2 Machine Gun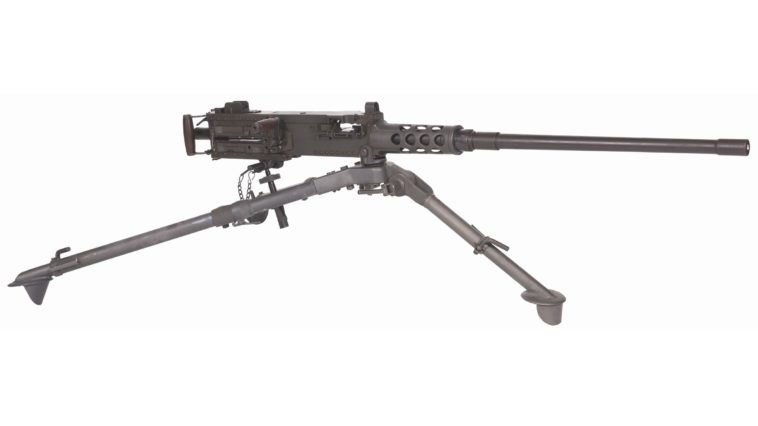 The American originated heavy machine gun M2 machine gun aka browning 50 caliber machine gun is the second deadliest or powerful gun in the world. The short recoil-operated machine can fire 600 rounds per minute and has a range of 2,500m. This gun was developed in 1933 after world war I.
1. FN FAL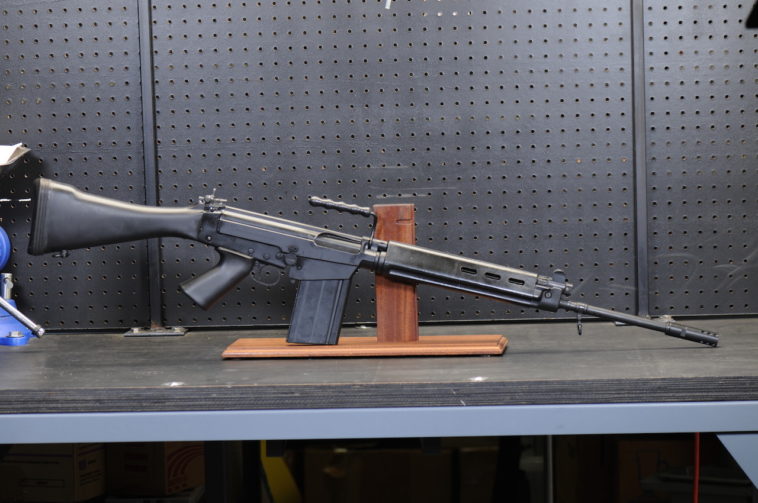 The most powerful gun in the world is none other than Belgium originated FN FAL. This gun can be switched into a rifle or either into a machine gun accordingly. With 7.62mm round it covers the range of 800m. FN FAL has different types of variants which include StG58, FAL.280 experimental rifle, FAL OSW, etc. This deadliest weapon is used almost by every country for military and defense purposes.
Here is the list of the top 10 powerful guns featured above:
Top 10 Most Powerful Guns in the World
FN FAL
M2 Machine Gun
Stoner AR-154HK
16 Assault Rifle
XM307 ACSW Advanced Machine Gun
F2000 Assault Rifle
AS50 Sniper Rifle
Thompson M1921 Submachine Gun.
Machine Gun – Koch and Heckler HK MG4 MG 43
Kalashnikov AK-47 Assault Rifle