To truly bring your backyard back into life, you probably need to do something about that patio. Keep in mind, I am not talking about just doing any regular renovation, I mostly talking about getting new furniture. However, I understand how difficult it can be to buy this kind of patio furniture. It is impossible to find something that will last long while exposed to the outdoor elements. Fortunately, the buying process of these kinds of items is so much easier because you can do it online.
But, the online shopping experience is not perfect either. There is a chance that you will buy the wrong thing or you might even get scammed. To avoid such situations, it is very important to be careful. Being too careful can also be a bad thing.
Because of this, I decided to write this article and tell you about all the things you have to keep in mind when buying patio furniture online. I hope that this will make your entire shopping process at least a little bit easier and safer.
1. There are good deals on the second-hand market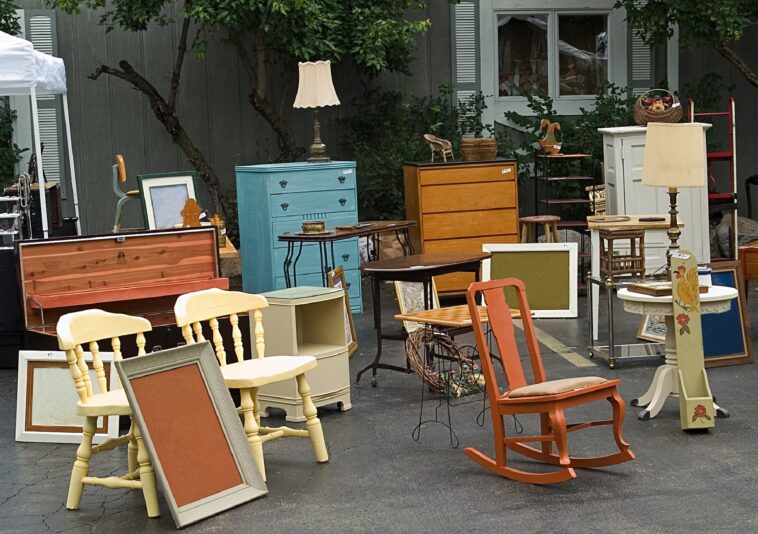 I know that a lot of people are skeptical about making any kind of purchase from the second-hand market. It is not reliable and it is difficult to find something good, but I believe that it is worth the trouble. If you do enough research and if you look in the right places, you could save yourself from wasting an unnecessary amount of money on patio furniture.
There are so many people out there offering great deals for items that are in great condition. Of course, finding them will be a rarity, but it is important to understand that those deals do exist.
To make sure that you will get exactly what you see in the pictures, you will need to ask all the right questions. The year they bought it, where they bought it, how long it was used, where it was used, etc. If the seller manages to answer all of these questions confidently, you are probably purchasing from a reliable person.
2. There will also be bad deals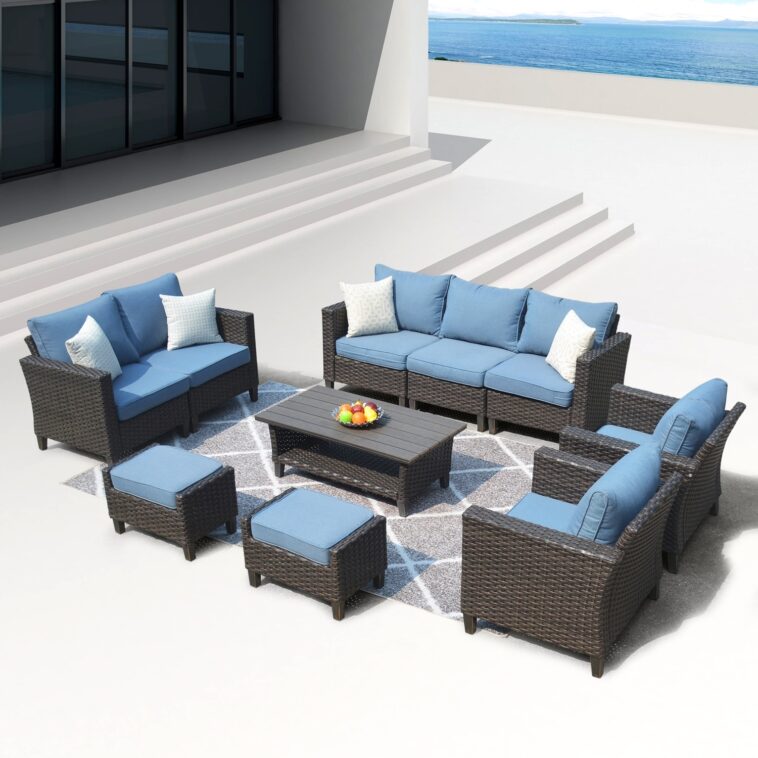 Keep in mind, just because you know exactly which questions you need to ask is not necessarily mean that you are safe from scammers. Some of those sellers may be very experienced in the second-hand markets, so they will know exactly what you want to hear.
Unfortunately, I do not have any universal answer or solution to this problem. In the end, it is up to you to decide whether you can trust that online persona or not. But I guess this applies to everything in life, so being too skeptical is not exactly a good thing.
There are bad deals on the second-hand market, but if you take your time and if you are careful, I am sure that you will not make the wrong decision. And even if you do, it will be a worthy lesson.
3. Consider buying new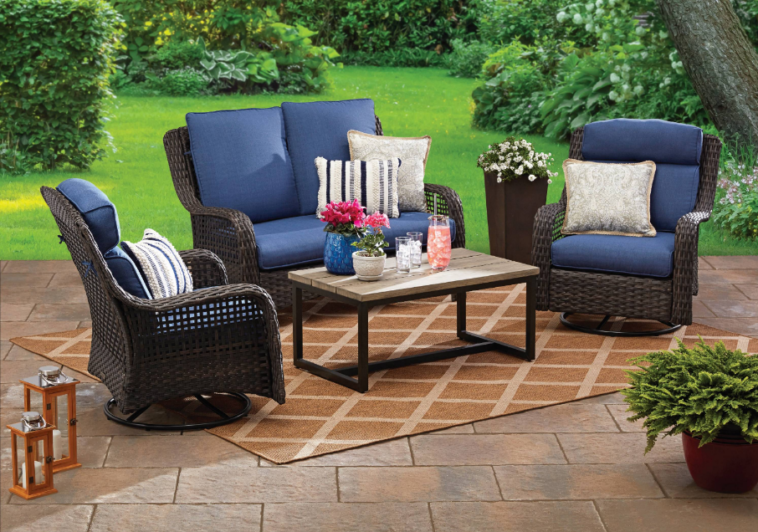 Even if you do have a lot of experience in bartering and shopping for used stuff, sometimes it is so much easier to go to a legitimate store and buy brand-new products. Obviously, this can be expensive, but at least you know what you are buying.
Even if you do not get what you expected, you will always be able to return the item and get your money back. Although I am certain that will not happen. What you see online is exactly what you are going to get. Official online stores must follow those kinds of rules. Otherwise, they will end up in some serious legal issues.
However, buying new patio furniture is not just about the hassle-free experience. You should also consider that you will probably be getting something a lot more reliable and durable. Naturally, the quality of the product will depend on the pricing, but in that price range, new will always be better. At least in the furniture market.
For example, if you are looking to get an outdoor dining table and you manage to find one used for $500 on eBay and another brand-new one for $1000 on RemarkableFurniture, the latter is probably going to be the better and more reliable option. The used one might have been good when it was still new, but after a few years, it probably has lost its durability and strength.
So, even though you will be deterred by the bigger price tag, it still probably the safer choice.
4. Take measurements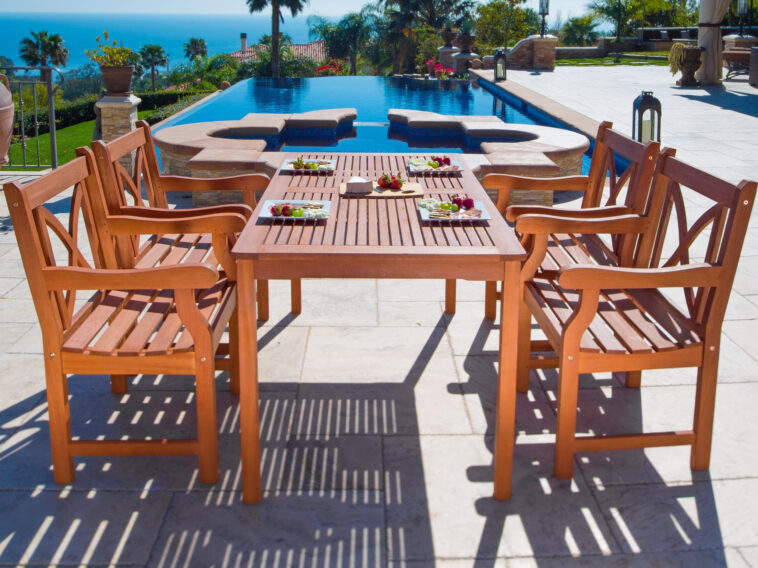 When buying any kind of furniture, whether online or in-person, there is one thing you have to remember to do. You must take measurements or you will end up with a product that does not fit your home. This is one of those mistakes is that most people have done. I advised that you avoid it at any cost.
Get a tape measure, make the measurements and write them down. Once you have that information, make sure you do not lose it. Also, make sure that you have not made any mistakes. It won't be the end of the world if you do make a mistake, but having to send back the furniture, wait again for days or weeks is not a fun adventure. Better safe than sorry, right?
5. Shipping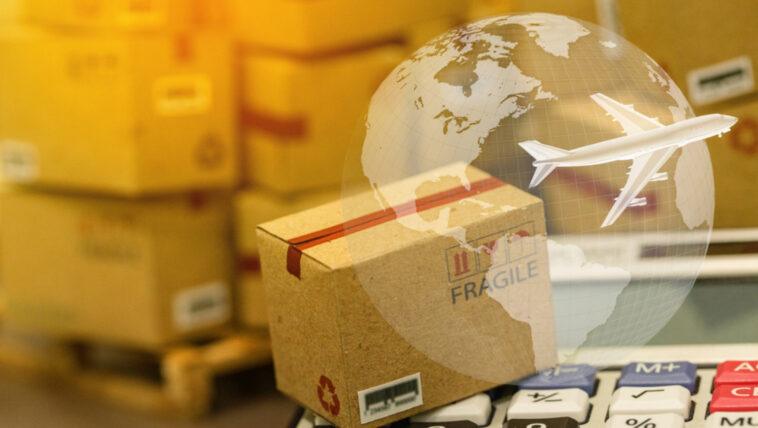 One last thing you will need to check is the shipping costs. Since most patio furniture is quite large, it will not be exactly cheap trying to ship a product from one side of the country to the other. If you are not ready to spend a huge amount of money on transport, I suggest looking at stores or sellers that are located near your area. This could save you hundreds of dollars in the long run.
As you can see, there are quite a few things you may have to consider when purchasing patio furniture online. But, if you stick with this simple and easy guide, I am certain you won't have any trouble.