Many people would agree with us that there isn't a better way to relax after a stressful day than enjoying a warm bath. We all need this 'luxury' from time to time, and it can really be a luxury if you have a large family or small kids who demand your attention 24/7.
One more thing, if you do not have a bathtub in your bathroom, and really want one, our advice is to opt for a freestanding one. Why? Well, simply because these are easy to install since they do not touch the wall, and also because there are numerous models you can choose from, but we are only going to mention some of them.
1. ARIEL Platinum Whirlpool Bathtub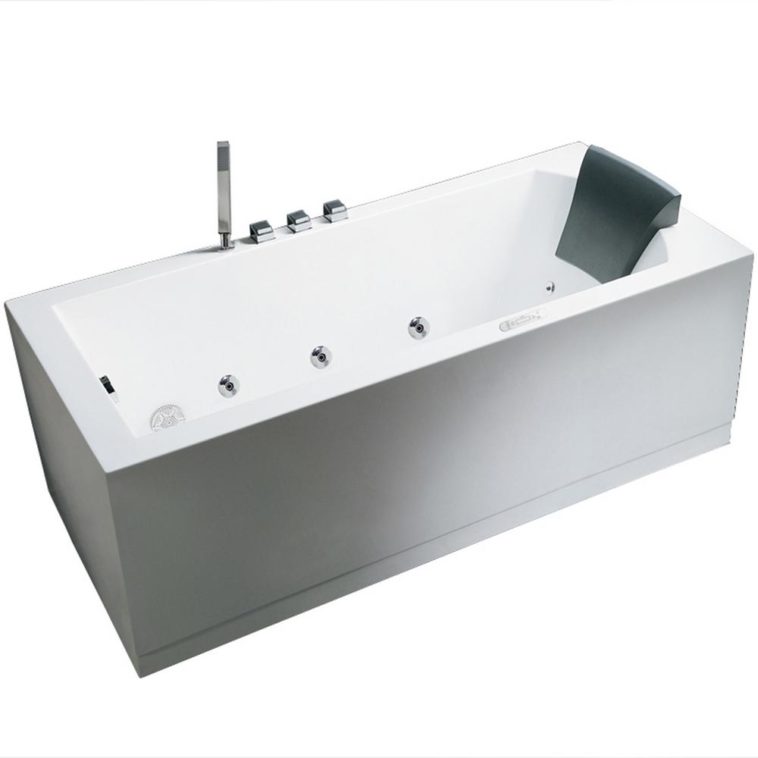 This tub is made from a combination of fiberglass and acrylic which means that it is extremely durable. This also means that it is quite heavy, so if you are redoing an upstairs bathroom, this one might not be the right choice.
Nevertheless, this modern creation comes with a touch screen which enables you to control its many features. There is LED lighting together with a built-in speaker, and there are also jets that provide you with the opportunity to enjoy a massage during your bath.
2. MAYKKE Barnet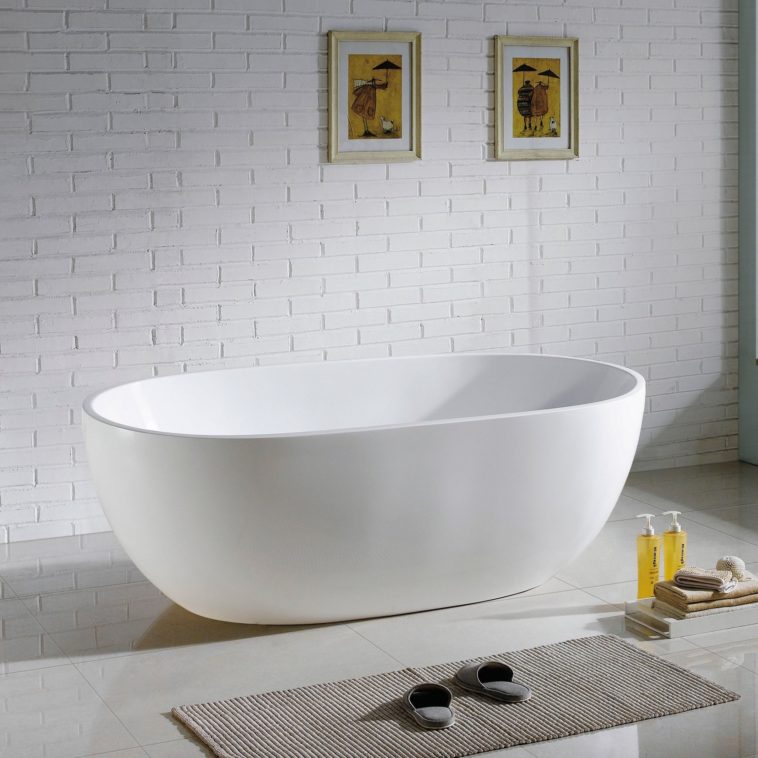 If you are looking for a way to recreate that spa feeling in your own home, then you should definitely consider this one. First of all, it is quite large and can hold up to 53 gallons of water. It is 100% acrylic which means that it is sturdy and that it is going to last you for a long time.
In addition, its shape is quite unique and we must say, elegant. It is affordable and really easy to install which means that you will save enough money because all you need is a plumber who knows the basics of his work.
3. MAYKKE Hialeah 79''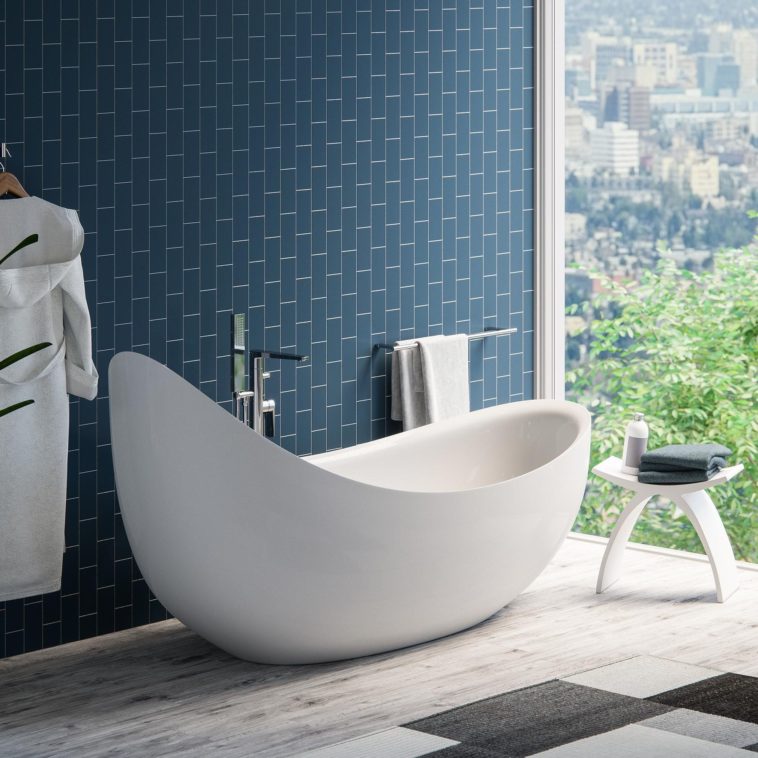 This one is from the same manufacturer as the previous one, but it is even better. The first thing that people notice is its one-of-a-kind design. If you are one of those people who need a reclined back, then you need look no further. This bathtub is going to provide you with the comfort you have been dreaming of.
There is only one downside to this model. Since it is quite large, fitting it into an average size bathroom can be a challenge. Due to this reason, you have to carefully measure the space you have at your disposal.
4. Vanity Art 71''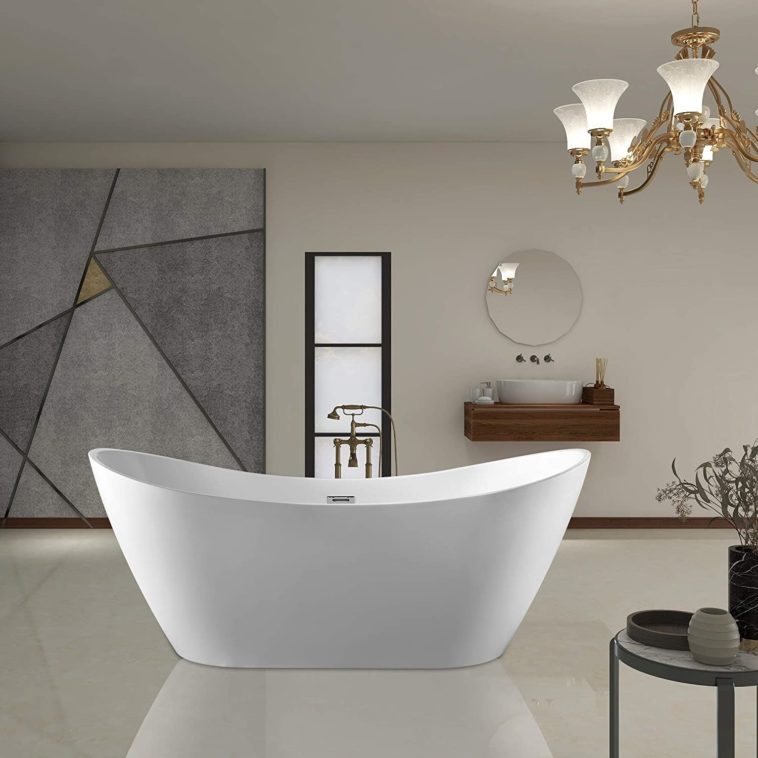 The reason why this tub is on our list is its design and shape. At first glance, it might seem odd because the edges on the opposite ends are not the same. Why is this? The main purpose of this design is to prevent the water from overflowing and spilling. This means that your bathroom floor will stay dry. If you want to learn more details about it visit thesized.com.
5. AKDY 63'' Modern Black Acrylic Finish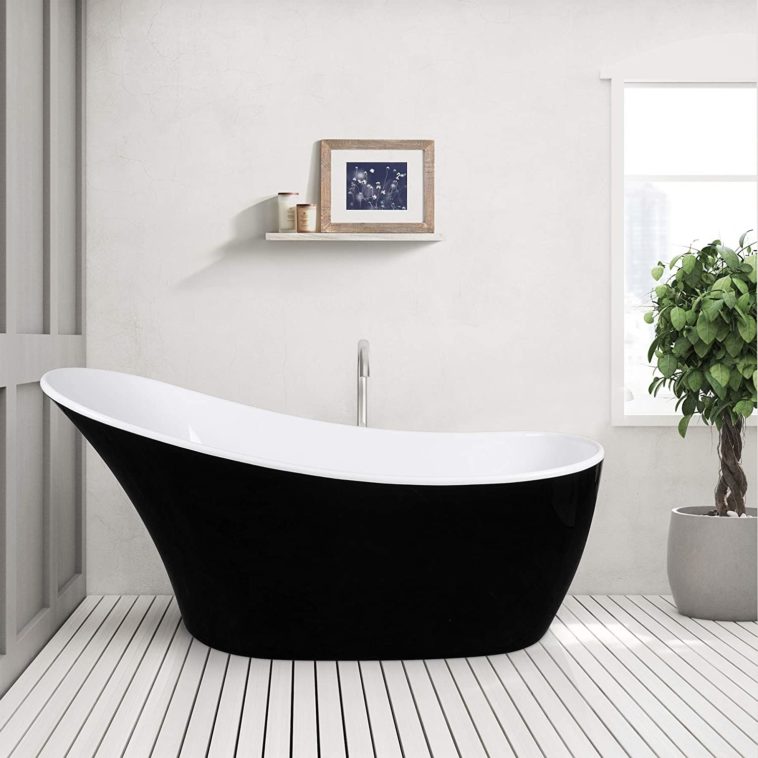 All the tubs that we have already mentioned are quite stylish, but, if you want to take it one step further, then this black one might be the right choice for you. Despite the fact that it has quite a large capacity, it is surprisingly lightweight.
Still, it is not designed for two persons, and you might want to be careful around it since it has no overflow drain, which can be bad in case of a flood. Still, many people opt for this one because of its price and design.
6. Empava EMPV-FT1518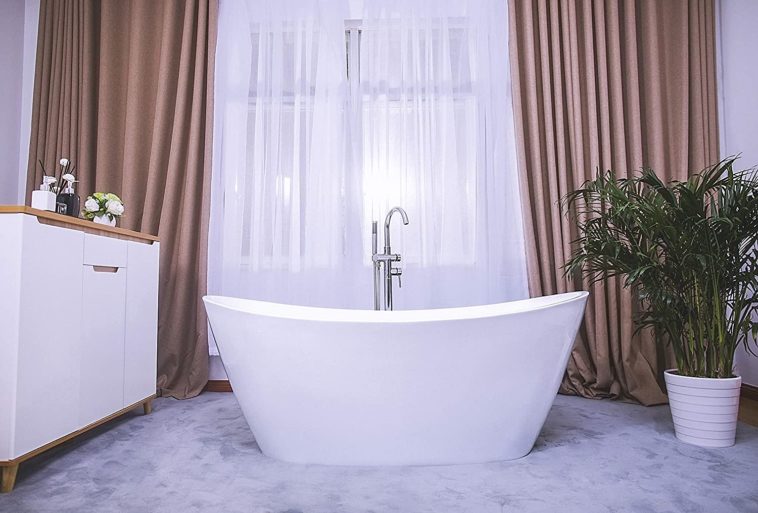 In case that you are not redoing the entire bathroom, but only want to get a new tub, and the style is distinctive, you should look for a tub that can be customized, and this one is exactly that. What are we talking about? Well, about the faucet and other small features but still significant features.
When it comes to the size, it is a bit smaller than some of the previously mentioned ones (it can hold 58 gallons of water), but nevertheless, it is spacious which means that it can fit two individuals comfortably.
7. Wyndham Collection Mermaid 60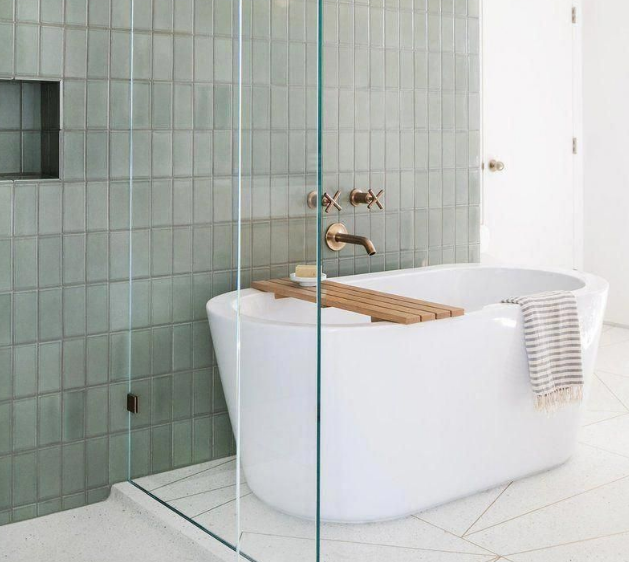 If your bathroom is rather small but you still want to have a bathtub, then you should definitely consider this one. We have already agreed with you that this commodity is very important sometimes and so do the manufacturer which is why they have created this model.
However, due to this shape, this one has the capacity of 43 gallons which after all, doesn't make it that small, right? Other important features are drains that are pre-installed in the center of it, which is one thing less to worry about. Plus, you have the option of talking with the manufacturer about further upgrading these.
8. Woodbridge BTA-1515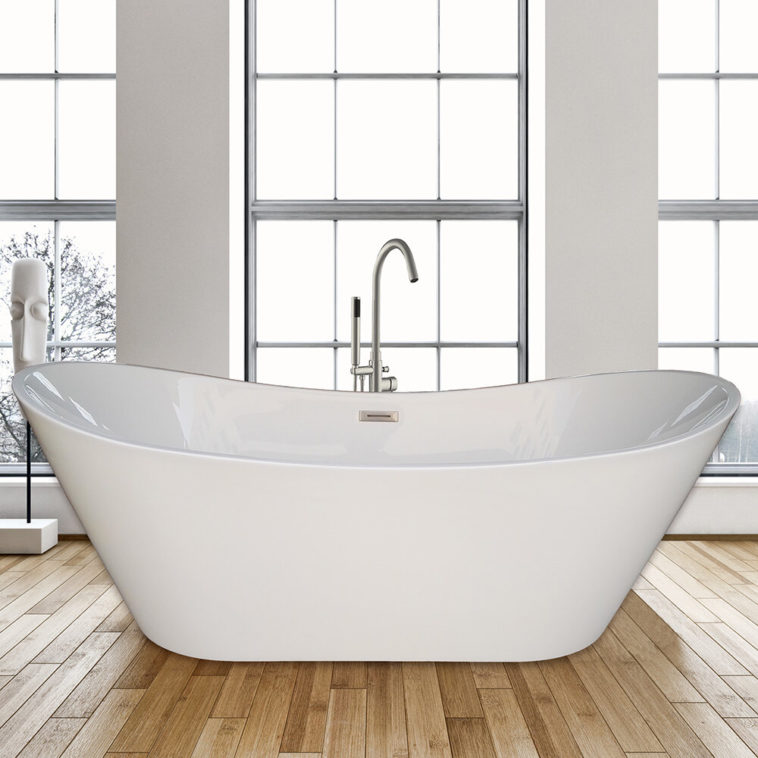 The most beneficial feature of this one is that it has double walls. What does this mean? Well, it is made from acrylic, but these double walls keep the water warmer for a long period of time. This is very important for people who like to have long baths because getting cold is the worst thing that can happen.
Moreover, both the overflow drain and the center one are pre-installed, meaning that his 60-gallon tub can easily be set up in your bathroom.
9. MCP Jetted Massage Hydrotherapy Bathtub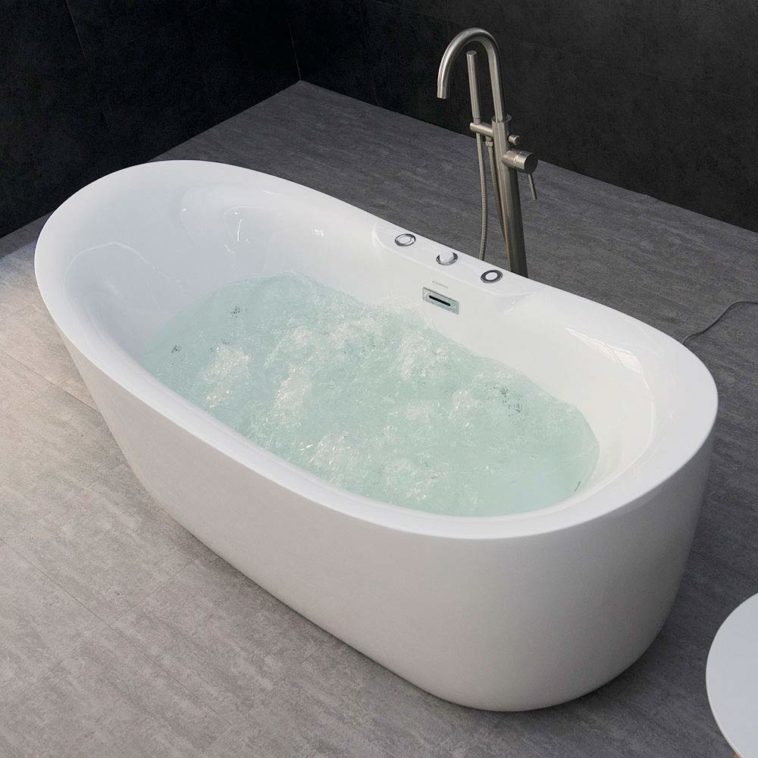 There is one thing that you have to know about this one – it is very, very expensive. Why are we telling you this? Well, if you are on any sort of budget or you simply have a cost in your mind that you do not want to exceed, don't even consider this one.
One of the reasons why the price is so high is the fact that its base is made from stainless steel. In addition, it includes 3 layers of fiberglass which make it quite indestructible. The best part is that there are multiple jets on both sides of the tub meaning that you can choose between different types of hydrotherapy.
10. CRACCO SPA 59''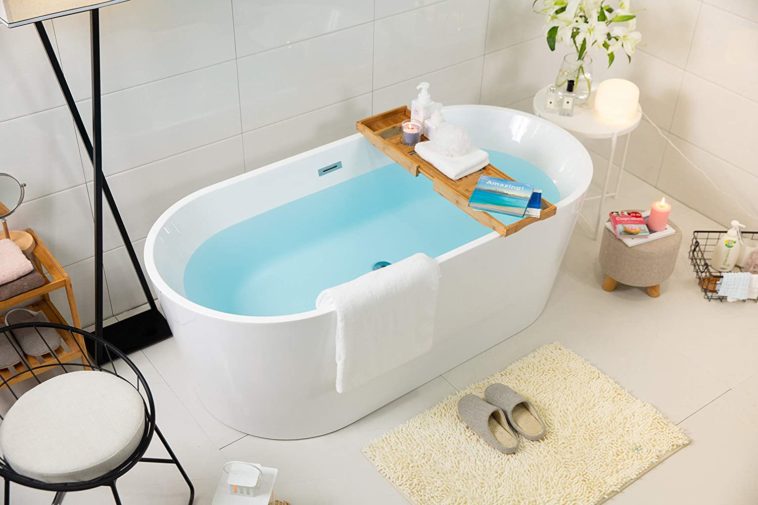 Finally, we are going to introduce you to this acrylic wonder. For so many reasons, this tub is perfect for you, especially if you have never owned one. It is of the average size meaning that it can easily fit into your bathroom, but it is spacious enough to ensure that you enjoy a comfortable and relaxing bath. Besides, because of its design, it is super easy to clean, which is an important feature if you ask us.