The kitchen and the bathrooms in the 21st century have been the holy grail of most homes.
Choosing stones to place in these spaces demands a long thought process. When selecting stones for the kitchen and bathroom, you should consider the designs you want to achieve. The functionality and overall outlook are equally essential. Remodeling spaces can be a daunting task, and that is why a little bit of research can make it easier.
E-commerce shops like Saturnia Travertini will educate you on the various stones and functions, helping you achieve beautiful spaces.
Choosing a Stone for the Bathrooms
Today, bathrooms offer more than what they used to a decade ago. Bathrooms have different styles, as some try to achieve an ultra-modern look while others have a simple feel with a minimalist approach. Another group may adopt an open design. In each of the plans, only specific kinds of stones can help in their creations. The size of the bathroom also influences the type of stones you can choose. Read on to see the best stones option for an exquisite kitchen and bathroom finish.
Marble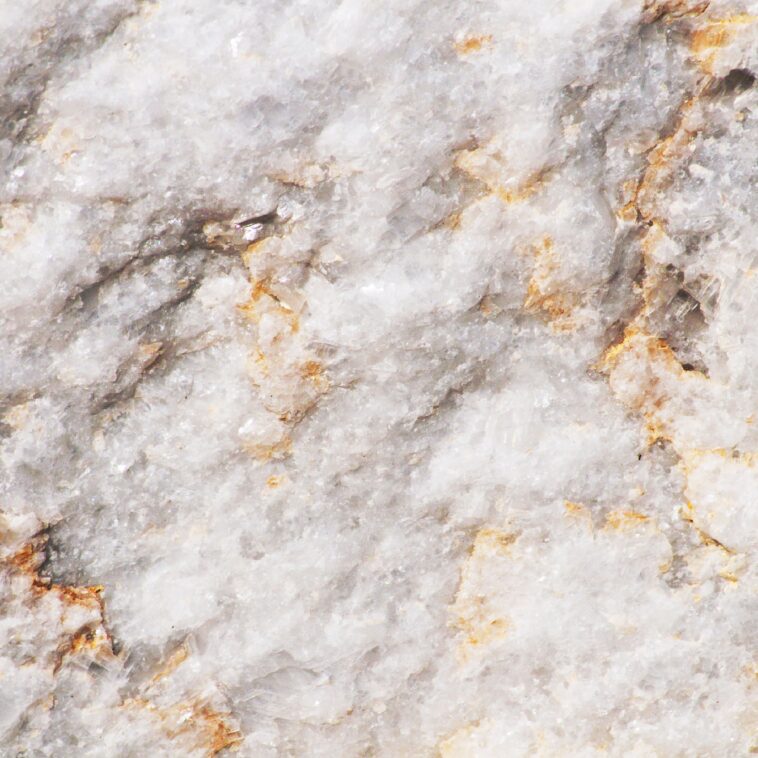 Homeowners are fond of choosing this stone because of its aesthetics. These stones are quite expensive, but you may be able to bypass that once you spot the finish on some of the homes. Carrara marble is an excellent option when it comes to marbles. Marbles are known to giving an aged look, especially the ones that are refined through brushing. Marbles can also provide a shiny, reflective look. These choices are suitable for a contemporary home. The downside to this might be that scratches are more visible.
Honing marbles can unlock its butter-like look that's creamy in some way. This finishing is not subject to scratches though it may soak up liquid material, leaving stains on the floor.
On the other hand, Tumbled marble provides a warm feeling and fits bathroom floors because of its grip, keeping the bathroom safe. To the eyes, it looks raggedy but to touch its very smooth.
Limestone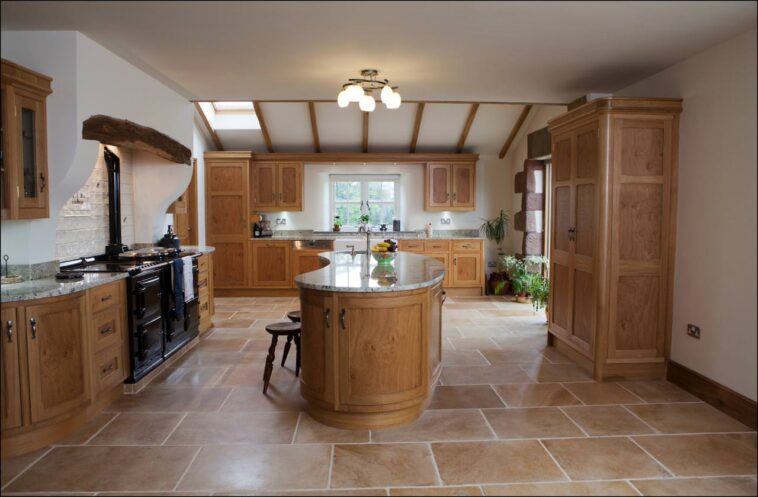 This stone helps you kill two birds at ago. If you are looking for a low maintenance bathroom, limestone is an excellent choice for the guest or kids. Due to its porous nature, the limestone bathroom floor dries in seconds. This stone provides a simple look. Do not be misled by this, though; it comes in a wide range of colors offering the user a wide variety. Limestone has six different finishes, namely brushed, natural, sawn, flamed, and tumbled finish.
Slate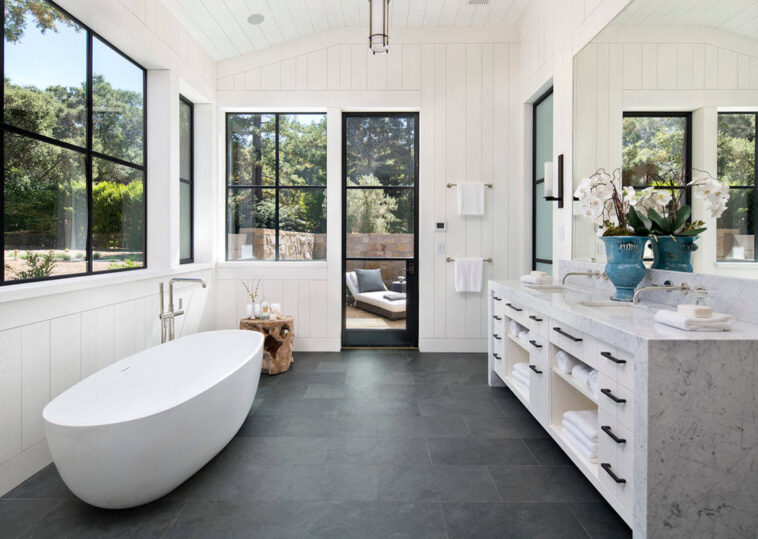 Slate stones are common on bathroom countertops and have soft surfaces that are compressible. For slate stones, they can be merged with porcelain to give a more distinctive look. You can get different results depending on how you handle this material. When you give it a natural cleft finish, then you obtain a roughly textured surface. When sealed and oiled, it achieves a black color. Slate stones, however, need consistent maintenance. You have to seal and oil them every six months.
Granite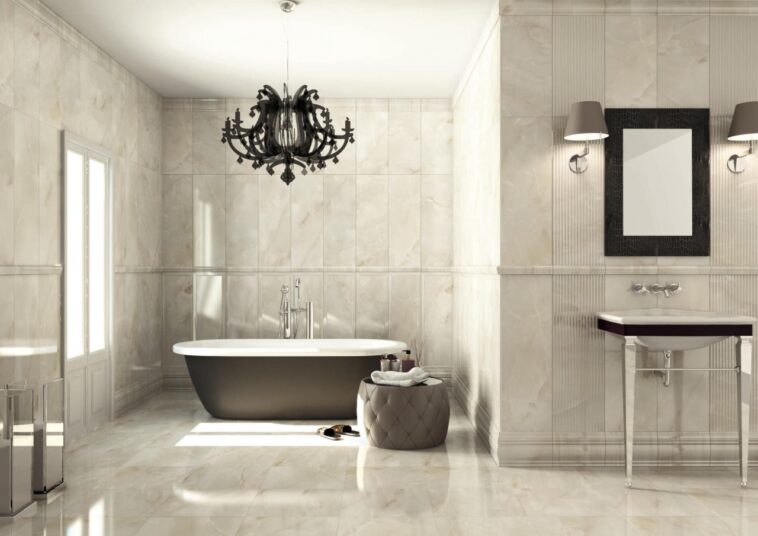 When it comes to cost, granite may break the scale. Initially, it was a reserve for the rich. The rock is created under volcanic conditions where it gets its awesome look. Its structure allows it to be durable and also inhibits microbial activities. Granite stones are not easy to scratch even though they still need to be sealed.
Ceramic and Porcelain Tiles
Small bathroom sizes require great creativity and you may not need expensive natural stones. Ceramic and porcelain material gives most bathrooms a classic look. When working with small spaces, you should use large tiling sizes to achieve a sense of openness.
Choosing Stones for Kitchen Remodeling
Consider using natural stones in the kitchen area to get a luxurious look. Kitchen areas have many sites you can work on, from the floor to the countertops and even the walls. You can create a grand kitchen using stones such as granite and marble, and though pricy, these stones are worth it.
The kitchen island should be remodeled with soapstone, which provides thin sheets that are strong and durable. Choose stones rich in texture, such as rusted iron, to give a general rustic look. You can also achieve an impressive kitchen look using unconventional tile shapes, which makes the flooring look interesting. Consider design concepts like glamming up using material colors that make the entire space look different and charming.
Onyx stones for the kitchen come in handy with their non-porous state, and they can be used as countertops. Onyx stones look like jewelry bringing its price point higher. The downside to using this is that it is delicate.
Soapstones create a balance with its grey surfaces and offer soft surfaces where meals can be placed. The stones are resistant to high temperatures, hence placing hot cooking pots on it will not affect its integrity. However, you still need to apply oil once in a while. The material hardly ever stains, and this is a plus, especially when handling acidic foods.
Bluestones are a unique choice due to its rarity of use in most homes. These stones suit walls and will work best with a little horning and brushing. You can, however, mix it with slate to produce a hybrid.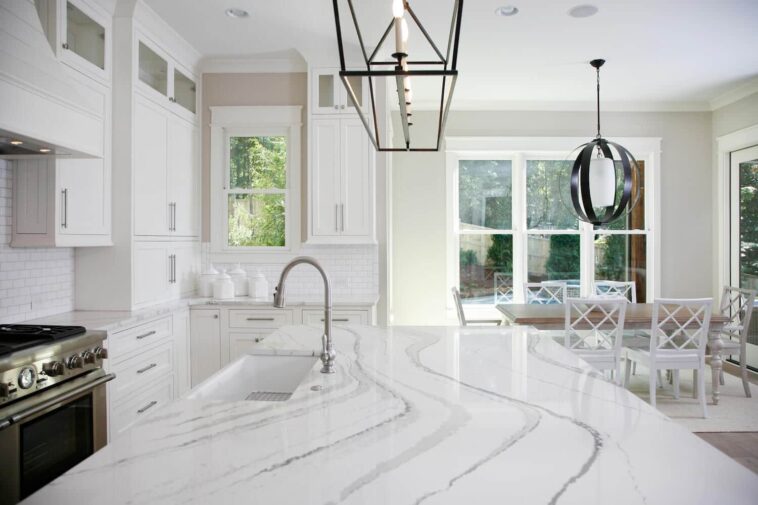 Conclusion
To achieve a makeover, you have to play around with accents. The accents should feature design styles like murals. Some stones can be hand-painted, but this option comes with extra expenses.
Understanding the functionality of the stones you pick on is significant. For instance, marble is known for a good surface for making pastry.
Granite can be used to form a backslash on the kitchen wall and are also proper flooring material that is resistant to wear and cracking. Granite can handle heavy objects placed on it, such as the fridge, gas cooker, and the island. The most important thing is to do it your way for greater satisfaction.